School in Uganda gathers momentum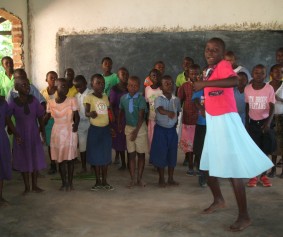 The school in the remote mountainous village of Buwasunguyi on the Kenyan border is developing rapidly with new teachers, a new name and additional building work. Following on from the work in July, which saw three classrooms plastered, an additional classroom was plastered in October. The blackboards on the white walls are a clear sign that the rooms have been transformed into learning environments.
Head teacher Seth joined the school in September, along with Caesar, who is in charge of academic studies. The pair, who trained together, are taking the school forward with a vision to add an extra year group in 2014. Their love for the children is evident; even after a full week of teaching (school days are 11 hours long and children also attend school on Saturdays), the friends took time to play games and sing with the children on Sunday. In line with developments, the primary school has a new name – St Mark's. Please consider donating £20 for three bags of cement; a further step towards  seeing the school completely finished.
Posted by ARK on Wednesday, November 27th, 2013 @ 10:46PM
Categories: News